A Guide to Outdoor Activities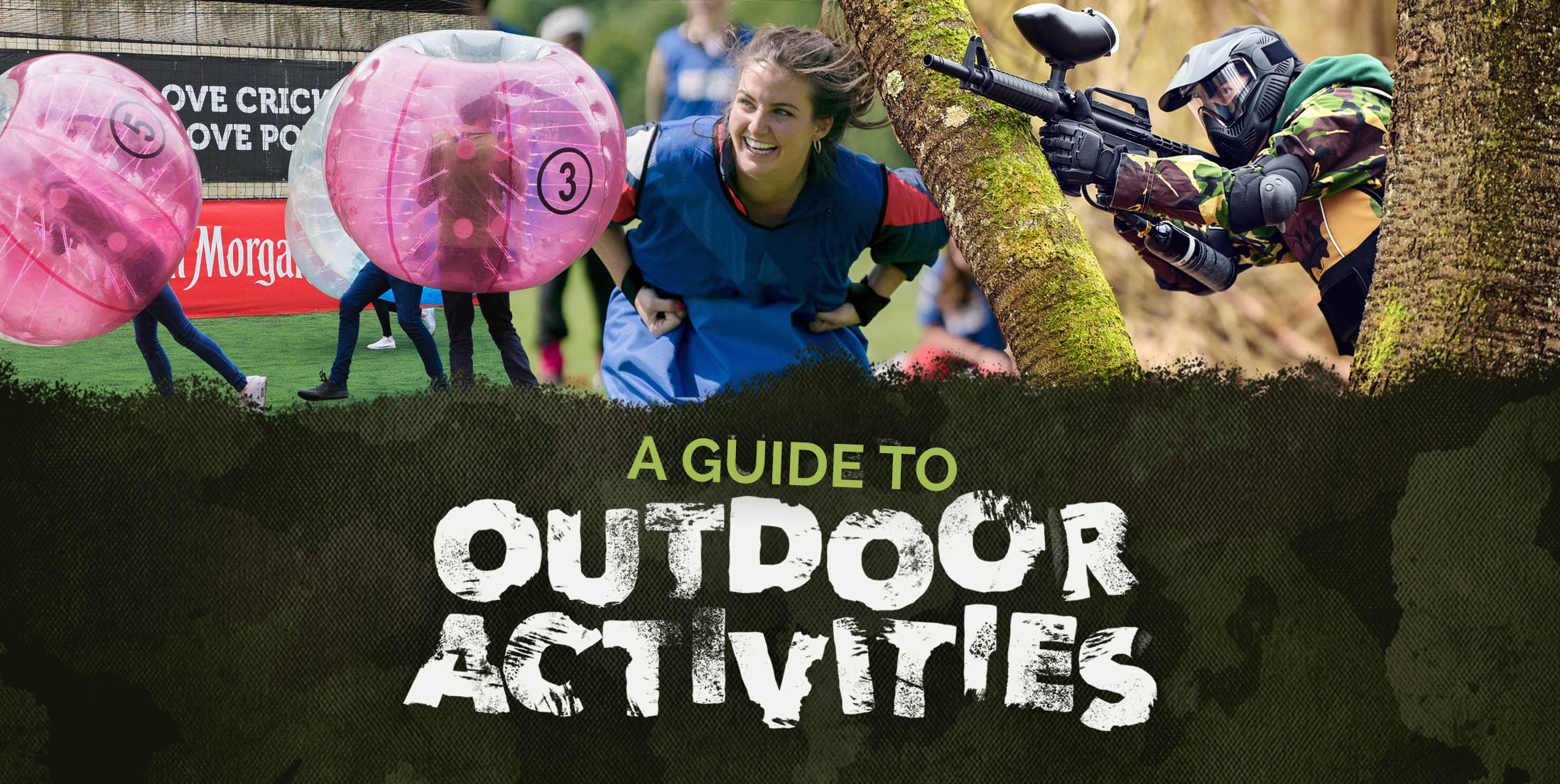 Sometimes there is just nothing better than heading out into the fresh air and having some fun with friends, family or colleagues.
With most peoples lives now getting consumed by social media, gaming, tv and anything else that involves a screen. Its even more important now to make the effort of going outside and being at one with nature for a few hours. It does wonders for your wellbeing which is why they are becoming more and more popular amongst friends, families and businesses.
What is an Outdoor Activity?
An outdoor activity is exactly what it says in the name, an activity that you can enjoy outdoors. Whether you are doing something as simple as going on a walk or run, or you are planning an organised outdoor experience with friends.
Why Are Outdoor Activities So Important?
Outdoor activities are so important as the fresh air provides you with some amazing benefits. We have listed a few reasons why they are so important below.
1. Unwind & Destress
Most of our days are filled up with screens, whether that's watching TV, scrolling on your phone or using a computer at work. Therefore heading outdoors for an activity of your choice is the perfect way to recharge and destress from anything that has been lingering in your mind. And just give yourself a break away from looking at any screens.
2. Improves Mental & Physical Health
Any form of exercise is beneficial to your mental and physical health but heading outside and getting stuck into activities is probably the best way to improve yourself. Any outdoor activity that works on your mind and body and let you unwind and have fun are the ones that you will definitely feel the most benefit from.
3. Helps You Bond Together
Most outdoor activities require some form of team work and commu­nica­tion is usually needed which means you will bond more with the friends, family or colleagues you are working with. And usually outdoor activities even if it is just going out for a walk gives you a chance to have a catch up with people. Or something like paintball or football can inject some healthy competition into the experience.
4. Vitamin D Levels Increase
You can get so much vitamin D when you are outside in the sunshine. It is a vitamin that is essential to protect your body against diseases and conditions. Vitamin D helps your brain, immune system, nervous system and so many more things so this plays a part in how outdoor activities improve your mental and physical health.
What Should You Wear for an Outdoor Activity?
If you are doing an outdoor activity that usually means you are going to be active which results to you getting hot and sweaty. Our best advice is to wear clothes you don't mind getting sweaty in and clothes that you aren't bothered about getting dirty. Things like gym wear, old trainers, joggers, shorts, t shirts etc. So long as you are in something that doesn't hold much value to you then you will be set to get the most out of your outdoor activity.
What Occasions Are Outdoor Activities Good For?
The best thing about outdoor activities are that they are perfect for every occasion. Whether you are celebrating a birthday, hen or stag do, team outing, group get together or anything in between! Activities that are outdoors are a great way to get everyone together and usually its easier to cater for a larger group without feeling cramped like you would with an indoor venue.
Popular Outdoor Activities
With this experience you will be able to get 2 hours of fun with 2 totally different outdoor activities! If you are wanting something sporty, fun and suited to all your group this will be perfect. You can choose from a variety of different activities and from the list you need to choose your two favourite. You will have an event co-ordinator who will run the day and all of the equipment you need is also included along with the venue!
Expect to get involved in total football carnage as you go head to head in a 5 a side game of football in a 1.55m bubble suit. The suit will cover the top half of your body leaving only your legs to move freely. Whilst in your suit you will have to try and tackle the ball off the other team and try and score a goal. It's a hilarious experience where you will probably find yourselves bashing and crashing around the pitch more than scoring goals.
Get the chance to feel like big kids again as you get involved in a range of different sports day themed games and races. There will be an instructor who will start by giving you a quick briefing on how the day will go, then you can jump straight into it. The games you will be getting involved in could be things like space hoppers, egg and spoon race, relay races and more. It's a great way to get competitive and have some fun together.
If football isn't your thing but you want to try out something that involves bubble suits then this could be the next best thing! You will have a game referee who will give you a short briefing and then you can climb into your bubble suit and get ready to go. Play games like roly poly relay, last person standing, jail break, bulldog and more! It's a hilarious experience that will bring out everyone's competitive side.
See how well your aim is and get your camo outfits on for a full or half day experience. All of the equipment like guns and paintballs are included in the experience so you can lock and load and be on your way. There will be various games you can play around the paintballing courses. You will have 100 paintballs to start off with but if you feel like you need any more you can easily purchase extra paintballs on the day.
Need more inspiration?
We have some amazing events that are perfect for some outdoor fun and are available in destinations across the UK & Abroad.